FP Journe at Watch Expo Newport Beach
This model was produced between 2005 and 2014
World Premiere:
The Octa Calendrier is the first wristwatch integrate an annual calendar with a large date, and to feature a power reserve of more than 120 hours.
The annual calendar is the third complication to be integrated in the automatic Octa calibre. A calibre recognized as the automatic movement to feature a power reserve of over five days with a very high degree of precision – even when the watch is not worn! The originality of each complication in the Octa collection is the identical baseplate used for each model.
François-Paul Journe (FP Journe) has managed to integrate a sizable complication – a retrograde annual calendar – while maintaining the dimensions of the standard movement of only 30mm in diameter and 5,7 mm high.
The annual calendar indicates the date in two windows and it the date advances automatically for months with 29, 30 and 31 days. In non-leap years (three years out of four) the date is advanced manually from the 28th to the 29th of February by a simple turn of the crown. The date then passes automatically from February 29 to March 1.
Technical Specifications
Indications :
Off centre hours and minutes
Small seconds at 4:30
Large Central Date
Day in window
Month in window
Dimensions :
Overall diameter :

30.80 mm

Casing-up diameter :

30.40 mm

Overall height :

5.70 mm

Height of winding stem :

2.80 mm

Diameter of stem thread :

S0.90mm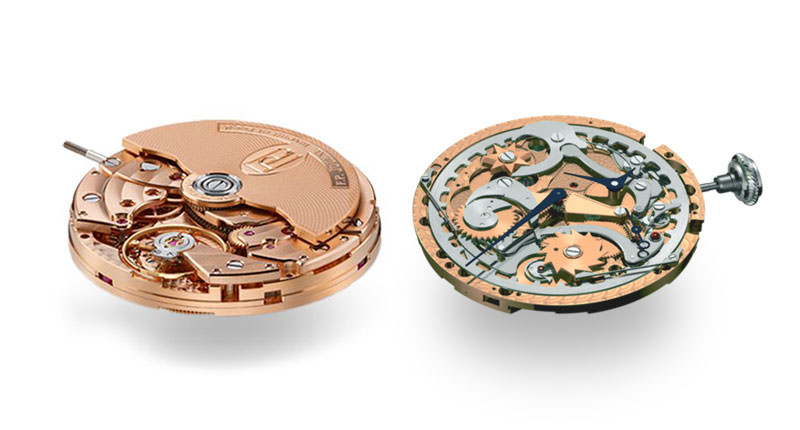 Technical description
Watches with long power reserves have hitherto been handicapped by small balances which are susceptible to shocks and disturbances. The Octa's compact construction allows a large (10.1 mm) balance to be fitted, giving greater inertia and stability. The free-sprung chronometer balance is adjusted by five turning weights that vibrate at a steady 21'600 times an hour.
Fully wound, the Octa delivers chronometric precision for 120 hours. The meter-long mainspring supplies an average 850gr of torque, limiting the loss in balance amplitude to 25% over the five-day period. Beyond that time, the watch will continue to go for another day or two, but the amplitude-loss no longer guarantees precision timekeeping.